The Clever Girl Finance Affiliate Program!
---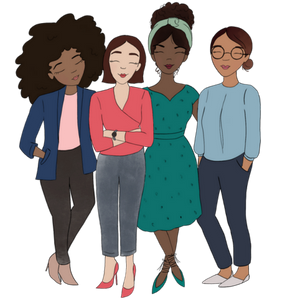 How it works
---
Becoming a Clever Girl Finance affiliate gives you the opportunity to share your experience as a member of Clever Girl Finance with other women who want to improve their finances and change their money story!
It also allows you to earn additional income when people sign up using your affiliate link. #friendshelpingfriendsbuildwealth
To get started with your application, please read the overview below carefully and then click apply.
Overview
---
Approvals: We review affiliates applications for approval on an individual basis so please allow up to 10 days for your application to be reviewed.
Eligibility: In order to be approved as a Clever Girl Finance affiliate, you must be a current subscriber or a Clever Girl instructor. We cannot approve affiliates who are not members of the Clever Girl Finance platform as we don't feel our courses can be effectively promoted without first experiencing them. We also cannot maintain affiliate accounts for canceled members.
Affiliate link creation & tracking: Once you are a registered Clever Girl Finance affiliate, you will be able to create an affiliate link. Any affiliate sales that you make are tracked and recorded in your account, and you will receive an email when you have made a sale through your affiliate link.
Affiliate percentage: Earning payouts are 40% for each person who subscribes to Clever Girl Finance using your affiliate link. If a subscription is refunded or cancelled, the subscription transaction will not be eligible for a payout. Note - If there are multiple affiliates that are marketing to the same student, the payout will go to the affiliate that most recently marketed towards the student.
Payout schedule: We pay our affiliates on a monthly basis. All sales are held for 30 days before a commission is paid. All affiliates are responsible for providing their PayPal information for payout to receive payment. You will be able to update your information via your affiliate dashboard in your account.
Potential tax obligation: For tax purposes you will be considered as an independent contractor. This means that, as is the case with all independent contractors, you will be issued a 1099 if your earnings from Clever Girl Finance exceed $500. We will request a W9 from you and that information will be used to send your 1099. This only applies if you are a U.S. person (a term inclusive of citizens, resident aliens, and qualifying entities). If you are a foreign person, you will be required to submit Form W-8BEN or Form W-8BEN-E. Please discuss specifics on taxes with an accountant.
Changes to affiliate program and denials: We reserve the right to make changes to our affiliate program without notice (including cancelling the program) and also reserve the right to deny any applications based on our discretion.




Terms
---
All Affiliates must divulge that they are an affiliate of Clever Girl Finance and might receive financial compensation when they share Clever Girl Finance, following the FTC guidelines. You must comply with all other rules related to general affiliate sales and the FTC.
As as affiliate you must make it clear that you will receive a commission for any sales made through your affiliate link.
As an affiliate you must not include content that is deceptive, misleading, untruthful, unsubstantiated, or otherwise fails to comply with applicable international, federal and state consumer protection laws, regulations, and guidelines.
Pinterest pins CANNOT link directly to your affiliate links. You must send users to a landing page, review article, video or other personally owned content before sending them to the Clever Girl Finance sales pages.
Affiliate agrees to indemnify, defend, and hold harmless Clever Girl Finance Inc. from any lawsuits, investigations, claims, or complaints arising from any such violation or alleged violation of the terms above.
Any affiliate caught breaking any of these terms will be banned immediately without hesitation, and will not be eligible for reinstatement.
The terms of this affiliate policy are subject to change at any time. It is the affiliate's responsibility to stay up to date on the information in this policy to ensure that they are in compliance with all rules at all times.