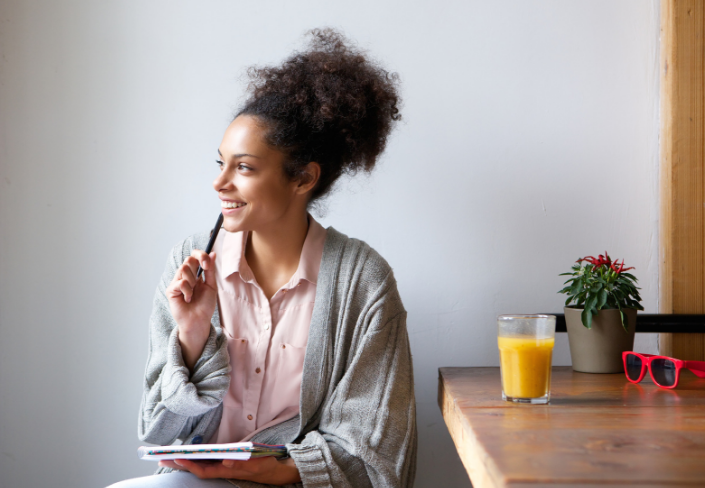 Transform your money mindset
This 4 course bundle includes courses on the following:
1. Transform your money mindset
2. Organize your finances
3. Create the right financial goals
4. Create a budget that works


---
Do you have the right money mindset?
Are you confident about organizing your finances, goal setting and budgeting to help you achieve the financial wellness you desire?
When it comes to creating a plan for your finances, it's important that you have these key foundational elements in place. This 4 course bundle will help you get clear, and lay it all out.
- Your money mindset
Having the right mindset is key to your financial success! What's more, having an "attitude of gratitude" allows you to be happy with what you have instead of always wanting more. So when it comes to money, you need to get your mind right and work on it consistently.
- Your financial organization
Whether you've got your financial house in pretty good shape, or you're paying for gas with the change you found under the seats of your car, you've got to start somewhere. But the key is to know where you stand. Own it.
No matter what, in order to achieve your financial goals, you need to have a good idea of where you stand financially first. And that means getting your finances organized and creating a plan to increase your net worth.
- The right financial goals
When it comes to creating financial goals, make sure you're creating the right goals for YOU—this is how to get to living life on your own terms!
- A budget that works
Who says budgeting has to be a chore? Your budget is you telling your money what to do and when you create a budget that works for you, you'll find it so much easier to stick to.
What you'll learn in this 4-course bundle:


Transform your money mindset (Course 1)
How to consistently stay on top of your thoughts, especially when it comes to your finances

The importance of gratitude and how to remind yourself to be grateful no matter what

Organize your finances (Course 2)
How to properly organize your finances

How to calculate your net worth

Create the right financial goals (Course 3)
How to determine your core values

How to create the right financial goals

Create a budget that works (Course 4)
The different budgeting methods and how to choose the one that works best for you.

How to create an easy system to help you succeed with your budget
What's included with your course bundle:
Bite-sized explainer videos & live coaching call replays

Applicable infographics & worksheets

Access to the Clever Girl Finance community, book club and approved resources
---
Stay accountable! Get your best girls to do this with you! Just send them this link to sign up for free too!
Courses you'll get access to!


Frequently Asked Questions
When can I enroll? I'm ready to sign-up!
You can enroll at any time, it's free to enroll!
What if I live outside the US?
There are currently women on our platform from different parts of the world including Canada, the UK, Australia, Nigeria, Switzerland, South Africa, Spain & France. While the content of our courses is applicable to everyone, some content refers specifically to tools and options available in the US which you can easily research if you are outside the US, however, if you have specific questions you can ask them in the community.